Home
❭
News
❭ With sights set on a post-pandemic future, Pascal seeks re-election to the Kirkland City Council
With sights set on a post-pandemic future, Pascal seeks re-election to the Kirkland City Council
For Immediate Release
March 24, 2021
With sights set on a post-pandemic future,
Pascal seeks re-election to the Kirkland City Council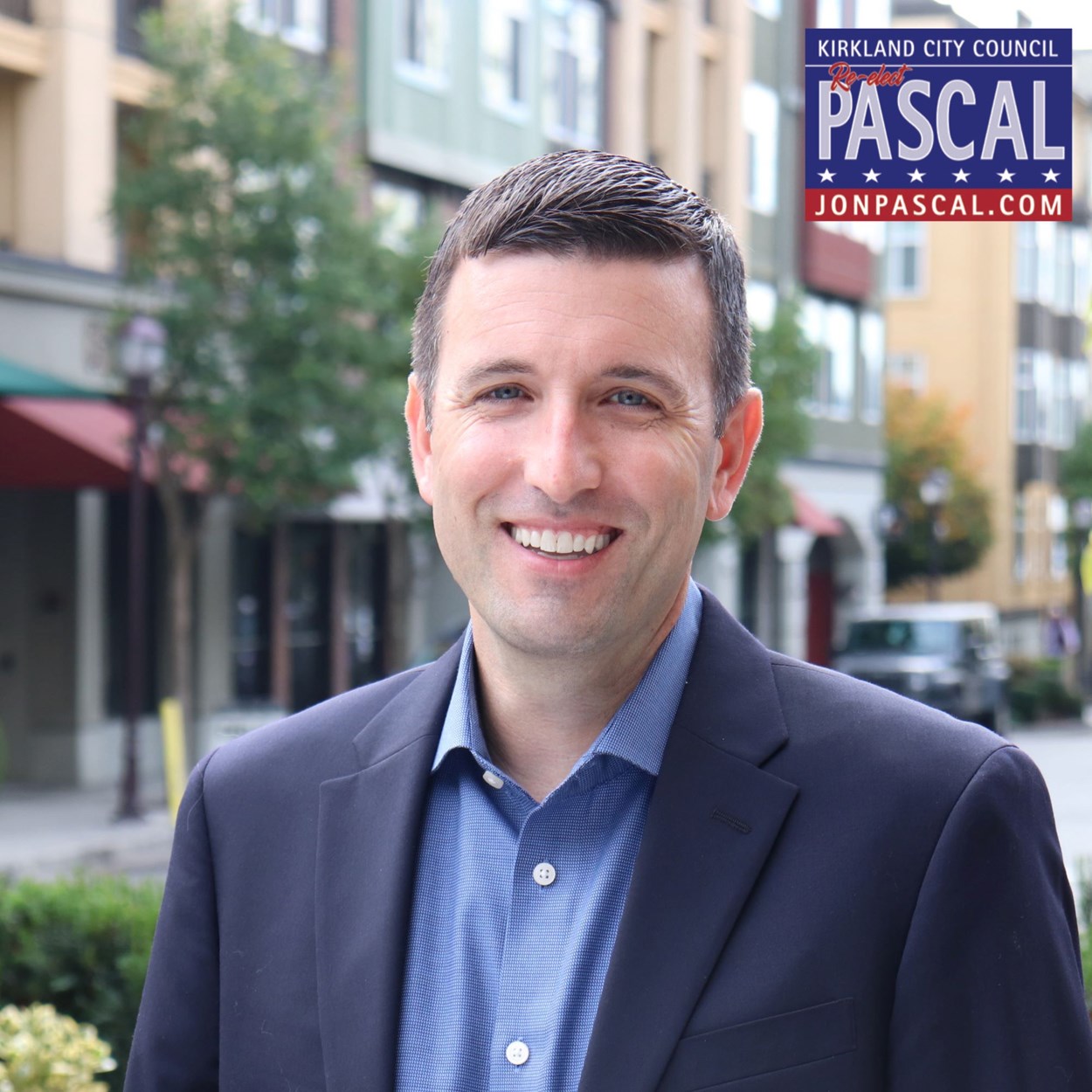 KIRKLAND, Wash. – Kirkland City Councilmember Jon Pascal looks to use the experience he gained in his first term to help the city overcome the challenges of a post-pandemic economy.
"I want to help Kirkland recover economically from the pandemic, address the issues that come with growth, and continue to make Kirkland a place we are all proud to call home," said Pascal, in announcing his run for re-election. "We've accomplished a lot together over the last 3 years. We've been able to invest in our public safety services, we made progress on key transportation projects, and we expanded our parks system. At the same time, we also increased support to our human services partners, adopted inclusive housing regulations, and maintained the City's strong financial position and top credit rating." Pascal's is one of four City Council seats up for election in November this year.
Pascal, first elected to the City Council in 2017, is the Chair of the City/School District Coordinating Committee and a member of Council's Transportation Work Group. He holds regional leadership positions on the King County Regional Transit Committee and the State Active Transportation Safety Council. "I am passionate about improving our transportation system to provide options that are convenient, safe, and reliable," said Pascal.
His years of regional representation have earned Pascal the support of other leaders. Sam Cho, Seattle Port Commissioner and a resident of Kirkland, said, "Jon has been tremendous in representing the City and I am excited to continue working with him on regional issues."
Pascal has championed issues such as making streets safer for walking and biking, preserving additional open spaces, and hiring mental health professionals who respond with police officers and firefighters.
Santos Contreras, a former Kirkland Councilmember, added, "Jon provides a steady hand on the City work priorities and is a solid voice of reason in his approach to city government."
Pascal has also been a strong advocate for making City Hall more accessible to the community. He pushed for the creation of the "Our Kirkland" portal, which lets community members conveniently and easily request City services using an online app.
His focus on customer service has not gone unnoticed, with King County Councilmember Rod Dembowski noting, "When constituents ask for help or want to provide input, Jon listens and engages with sincerity and dedication."
Pascal has worked alongside Lake Washington School District leadership to build more school classrooms, improve playfields, and make it safer to walk to school. Cassandra Sage, School Board Member said, "Jon brings a strong voice from the school community, which has resulted in a number of successful joint city/district investments."
Pascal recognizes there is a lot more work ahead, especially regarding equity and racial justice. "Soon after becoming a councilmember, I was proud to support the Safe, Inclusive, and Welcoming Community proclamation. Yet more needs to be done, and I look forward to helping make the community stronger, safer, and more equitable."
Professionally, Pascal works as a transportation engineer at Transpo Group, an engineering consulting firm located in Totem Lake, where he also serves as a Principal and part-owner. He lives in the Juanita neighborhood with his wife and their two children.
To learn more about Pascal, visit his campaign website at www.JonPascal.com.
###